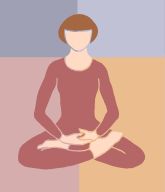 Benefits of Yoga
Develop a fit and youthful body
Banish stress and tension
Increase your powers of concentration
Improve memory and clarity of mind
Become more flexible, graceful, vibrant
Get in touch with your emotional and spiritual life
Learn to meditate
Hatha Yoga and breathing exercises will help you to restore your health, and stimulate the natural ability of your body to heal. It strengthens and stretches your muscles and helps your concentration. When your body is relaxed, your mind is calm.
In addition to being a licensed psychotherapist, Katya is also a certified Yoga teacher and teaches Hatha Yoga in the Integral Yoga style. In addition she teaches Tantric Hatha Yoga, which incorporates kundalini raising techniques with traditional asanas (poses), as well as utilizing contact yoga, music, and dynamic meditation.
It's never too late to begin the gentle practice of yoga. Each student goes at their own pace, and works within their own limitations and comfort, gradually expanding the envelope in a natural and fully supportive way.
See Testamonials by going to home page and clicking on the News & Features link.